HOME
CHRISTIANE BALLAN
present her last film
JAPAM
France / India – 2012
Feature film 90mn
side  :  HD  16/9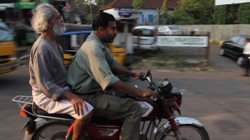 SYNOPSIS 
Japam, renowned writer, remembers the time when, at age 55, he still lived with his mother and had his refuge in alcohol. His voice will accompany us on the path of his life. Varkey , his old friend, filmmaker, while introducing him to the film techniques , awakens him to the sensitivity of the look that is always trying to go to the essentials when framing.
During trails through the countryside of southern India, he will meet a girl.
Like him, she does not talk much. Between them two feelings from another time seem to emerge. What are they? Where do they come from? The ancient romantic tragedy of the dancer Mâddhavi with the wealthy merchant Kôvalan starts resonating with the present of their own story.
When destiny calls them on a long term-scheduled trip, they accompany each other. The delicacy of an intimate but distant relationship will then lead them to (re) discover the gestures of filial love.
Through alternating realistic and dream sequences,
the film presents a modern vision of contemporary India still
steeped in the spiritual dimension.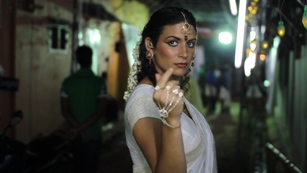 Actors :
Rajendren Prasad, Indiana Ballan, Varkey, Bina Paul, Peter Neutzling, Vasantha, Rugmini Amma, Raja Laksmi, Babu Jaju
JAPAM : mot Sanskrit word for the silent recitation of a mantra. Japam is the nickname of the main character of the film. A man who has made silence his fellow traveller.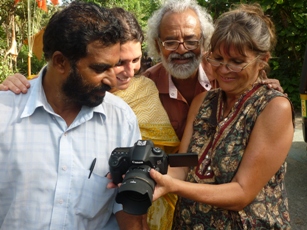 "We are the adventers of our own idea" Vicor HUGO
Down load there flyer in PDF to present JAPAM :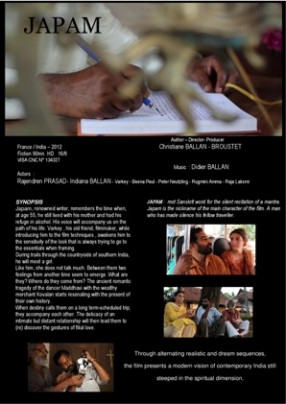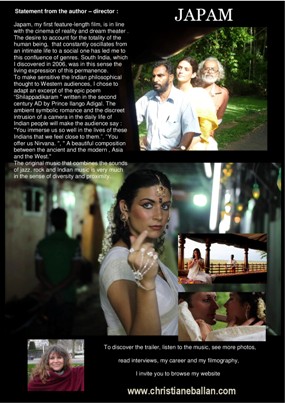 NEWS :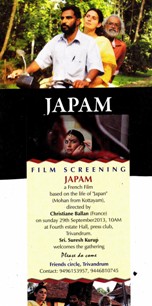 29th september at 10h Am, presentation at the press and screening of JAPAM at the PRESS CLUB HALL, TRIVANDRUM (capital of Kerala)
JAPAM selectioned at Festival CINEMABRUT
5, 6 et 7 juillet at Mouans-Sartoux (near Cannes).
Sreening JAPAM 7th Sunday at 17h15 cinéma La Strada.
http://www.cinemabrut.com/

Presence of JAPAM at the Market Cannes Film Festival 2013 with : LES FILMS SINGULIERS